US Center For Disease Control Announces Tainted Brands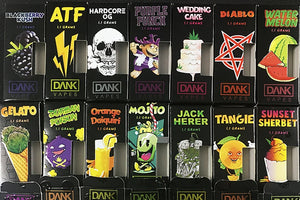 NY TIMES ARTICLE << HERE >>
The CDC names tainted brands of illegal vape cartridges linked to vaping related deaths and illnesses Friday, the NYTimes reports.
"Health officials said on Friday that the products include THC-filled vaping cartridges labeled "Dank Vapes," as well as some other illicit brands that people bought from friends or family or on the street." says the New York Times. Dank Vapes, TKO are primary brands reported in these cases.
The new information comes from researchers' interviews with 86 people in Illinois and Wisconsin, from 15 years to 53 years old, who had become ill after vaping. Almost 60 percent had required treatment in intensive care units. About 87 percent of those interviewed had vaped THC from prefilled cartridges purchased from "informal sources" during the three months before they got sick, and 57 had used Dank Vapes.
The 86 patients from Illinois and Wisconsin who were interviewed reported using 234 types of e-cigarettes or vaping products, labeled with 87 brand names. Of 75 who vaped THC, 49 used it at least once a day, and some more than five times a day.
Vitamin E acetate is a skin oil and has "no business" being in a product that people inhale, Dr. Sharpless said, adding that the product is added to dilute or "cut" THC before it is sold.
Leave a comment
---
Also in News

Federal Vaping Product Excise Tax:
The Canadian federal government is introducing an excise tax that will require every e-liquid bottle or pre-filled pod sold within Canada to be excise-duty stamped (similar to the excise stickers found on tobacco and cannabis products).
Manufacturers will have to start duty-stamping products as of October 1st, 2022.
 Find out how In2Vapes will be helping our customers through this time!
IN2VAPES' Release on COVID-19
We remain open to serve you!