HEALTH CANADA CAPS NICOTINE FEDERALLY AT 20MG/ML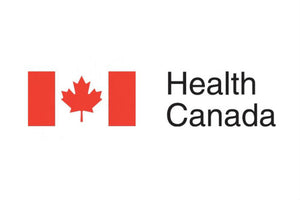 Dear In2Vapes Customer
,
We are sending you this communication to update you on the regulations Health Canada has put forward,
specifically the federal nicotine cap.
Regulations Summary
 
Federal Nicotine Cap 
Health Canada has published the latest Canada
Gazette Part II on
June 23, 2021
.
This Federal regulation put forth enforces nicotine concentrations of vaping products to be capped at 20 mg/ml, where vaping products over this limit will not be allowed for sale in Canada.
 Retailers will have up to
July 23, 2021
(30 days after Gazette II is released) to continue selling products that are above the cap.  
What Do You Need To Do?
Prior to July 23, 2021, we urge all our customers to stock up on our remaining inventory of their favourite vape products
ABOVE
20mg/ml. This nicotine ban effects ALL vape products including pod systems, disposable vapes and E-Juice.
Our In2Vapes staff will assist you in any way possible through this transitionary period to find a vape product that will work for you in a lower strength. We have stocked great options in all of our Pod Systems, Refillable Pod Systems and E-juices to ensure this period is as smooth as possible on our patrons.
For more information or questions, please feel free to reach out to us. We are here to help, and together we will help you stay on your journey to being smoke-free.
Sincerely,
In2Vapes Team
Leave a comment
---
Also in News

Federal Vaping Product Excise Tax:
The Canadian federal government is introducing an excise tax that will require every e-liquid bottle or pre-filled pod sold within Canada to be excise-duty stamped (similar to the excise stickers found on tobacco and cannabis products).
Manufacturers will have to start duty-stamping products as of October 1st, 2022.
 Find out how In2Vapes will be helping our customers through this time!
IN2VAPES' Release on COVID-19
We remain open to serve you!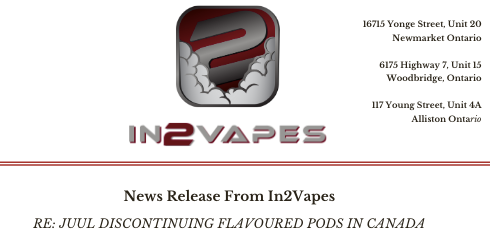 JUUL Canada has discontinued production on flavoured JUUL PODS in Canada. Find out how In2Vapes has you covered!