Federal Vaping Product Excise Tax

It is important to note that the Government has invited the Provinces and Territories to participate. In the event that the Provinces or Territories opt into the excise tax, a new Provincial/Territorial stamp will need to be applied on all products and the duty payable will effectively double. Using the example above, the same closed pod pack with 6 mL of vaping substance with Federal and Provincial/Territorial duties would be $2 per 2 mL, which equates to $6. At the time of this writing, no Provinces and Territories have participated yet.
Sources:
1. Excise duty on vaping products
2. Duty on Vaping Products
Leave a comment
---
Also in News
IN2VAPES' Release on COVID-19
We remain open to serve you!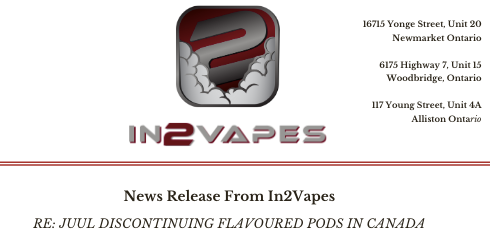 JUUL Canada has discontinued production on flavoured JUUL PODS in Canada. Find out how In2Vapes has you covered!