"Lung Disease" Patient Speaks Out On Media Manipulation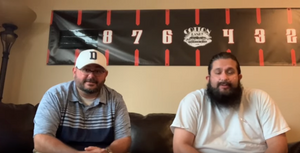 Have a look at this video below....Ben Camerillo a local man in Amarillo Texas speaks out about what happened to him when diagnosed with vaping lung illness. 
For 4 weeks now the US Media has been manipulating YOU spreading FEAR, MISINFORMATION, MANIPULATION driving YOU back to smoking combustible cigarettes.  This is a CLEAR example that YOU must not take what you see and hear as the complete facts. 
Regulated e-liquids sold at REGULATED VAPE SPECIALTY SHOPS are produced in Pharma Grade Labs and contain NO THC or VITAMIN E ACETATE.  Ben Camerillo admitted to vaping a THC BASED PRODUCT which made him ill, not a Nicotine Regulated E liquid and yet the LIES CONTINUE.

The HYSTERIA by the media outlets are LYING TO YOU.
Leave a comment
---
Also in News

Federal Vaping Product Excise Tax:
The Canadian federal government is introducing an excise tax that will require every e-liquid bottle or pre-filled pod sold within Canada to be excise-duty stamped (similar to the excise stickers found on tobacco and cannabis products).
Manufacturers will have to start duty-stamping products as of October 1st, 2022.
 Find out how In2Vapes will be helping our customers through this time!
IN2VAPES' Release on COVID-19
We remain open to serve you!